Hey Everyone!
I KNOW WHAT YOURE THINKING! "Holy crap shoot Meghan this is a long script!" I promise it'll only take you 10 minutes tops to film and the editing only took me 5 including rendering!
any who!
This is my first ever collab video with the Burries! I'm way excited to be able to create somin awesome with you guys! The song were going to be using is I Wouldn't Mind By He Is We. If you dont have the song yet get it for free here:
http://bit.ly/dupni8
FILE TYPE:
Render your video to one of the five file types:
Video Files: .mov, .avi, .mts, .mp4, and mpg.
No .wmv's or .flv's.
Sorry :/ This is a big project and i'd spend the majority of my time converting if everyone sent me wmv's/flv's.
ASPECT RATIO:
Output needs to be 720x480 or higher [720x1280, 1080x1440, or 1080x1920]. This is a standard export size. Just make sure before you render the video it'll be this size.
If you don't know how to do this you can google "16:9 render settings [insert your editing software]" and some good sources will show you how!
Send clips Via this website:
http://www.yousendit.com
OR
http://www.megaupload.com
SEND TO THIS EMAIL:
imaburry@gmail.com
OK! Now that thats out of the way lets get to the fun part!
I'll be lip dubbing to the song and creatively incorporating your videos in them as well.
SHOT:
my shot set up: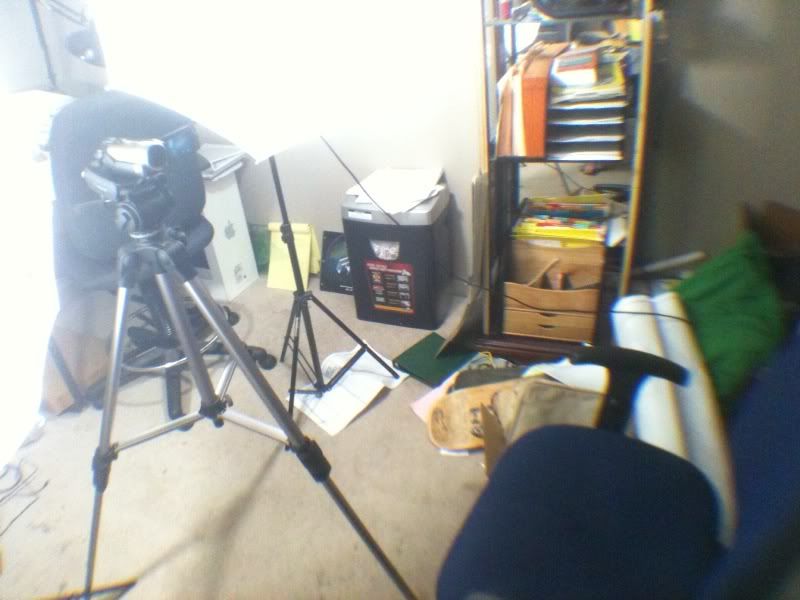 Have a solid background or wall behind you for filming or a really pretty place outside around grass and trees. I usually just hang up a sheet or small blanket! When filming the camera should be 3 feet away from you [so youre awesome face will be up close and awesome looking for the video] and position yourself in the center of the frame like this:
LOOK I'M IN THE MIDDLE!
my shot set up: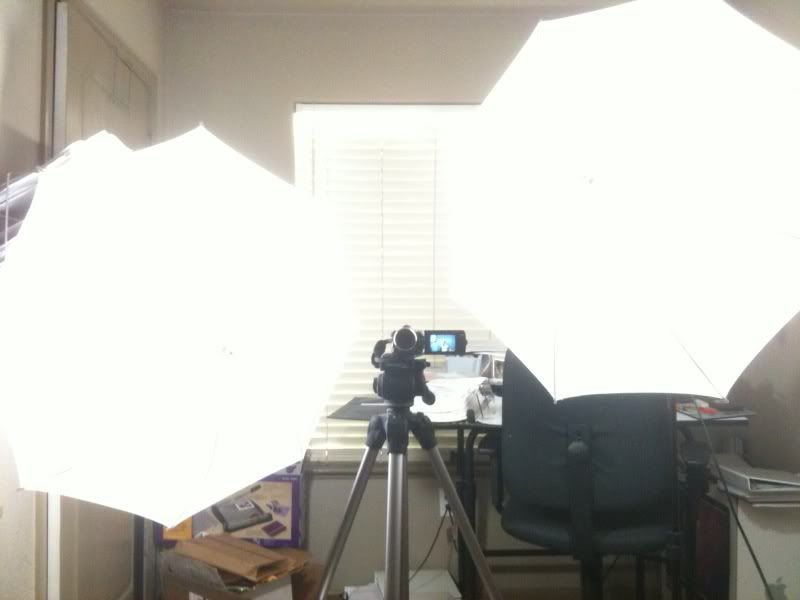 any type of lighting source you have would be good if youre filming indoors. A desk lamp, flood light, lamp, whatever you got. Try and make sure your face is evenly lit so theres no hard shadows. Like this:
SHADOWY LIGHTING
Heres the downloadable script for when youre filming!:
http://www.box.net/shared/9shkv7arhq

Theres 10 different scenes! Theyre super easy and i have examples to give you a general idea :) I uploaded the videos individually for example purposes but please send me all of them together in one rendered file! :)

Color code:
lyrics
lip singing
actions/acting
-Everyone-
1. 7 seconds
of you staring at the camera. you can smile or just be natural. stay in one place though without hand movements. (this will feel like forever)
2. Merrily we fall
-6 seconds
of you swaying back and forth then falling out of the shot.
***NOTE SCENE 3 AND 4 ARE IN ONE CLIP!***


3. We're not going anywhere until we freeze
-
6 seconds
of you pretending youre humming or singing as if notes were coming out of your mouth then dramatically freezing for two seconds before lip singing the next two lines immediately after. you can stare at the camera when you freeze or pose how ever you'd like.
4. I'm not afraid anymore

-
lip sing these two lines
I'm not afraid.

5. But I wouldn't mind spending it by your side.
-
look to your left for

4 seconds

and smile as if there was someone next to you. look to your right for

4 seconds

and smile as if there was someone next to you.
6. You came and you took this heart

-
7 seconds
of an up hand heart.
7. Every word you write and sing is so warm to me.
-10 seconds
of you holding up a hand drawn sun in marker (so it shows up!)
8. Tell me everyday 
I get to wake up to that smile.


-10 seconds
of you smiling into the camera
9. I wouldn't mind it at all.

-
lip sing these next two lines while taking glances to your left.
I wouldn't mind it at all.

10. 10 seconds-
hold up your screen name on your hand, shirt, or a piece of paper (be as creative as you want and be as "goofy" as you'd life for this clip. it'll be at the end of the video giving you credit for helping make it. :)
WOOO!!! THATS IT! I know it seems like a lot but hopefully the pictures and video clip examples help!
DEADLINE:
SUNDAY JUNE 13, 2010
10PM PST
I know the deadline seems soon but these are pretty easy shots to film! Don't worry about your shots being perfect or what other people will think about them. This is gonna be such a neat video and my first collab with you! So film film film! and send your clips in asap! :)
-Meghan